WHY WE LOVE IT
Don't let its size fool you. This pint-sized, portable powerhouse keeps funky odors at a minimum with our innovative patented Fresh Air™ technology that allows for aerobic decomposition. Use the specially designed lid that rests on the bin's edge to keep things clean while you take small steps towards being more green. Who knew composting could be this stylish and easy?
WHAT IT'S MADE OF
Plastic & recycled plastic
Customer Reviews
Write a Review
Ask a Question
Filter Reviews:
sink
breeze
properties
units
food scraps
color
kitchens
place
garbage disposal
plastic bag
09/12/2020
Elaine B.
United States
The Perfect Solution
Breeze is exactly what I was looking for. Although it is designed as a kitchen compost container, I have slightly altered it's purpose. We don't have a garbage disposal because we have a septic tank and therefore have to be careful about what goes down our kitchen sink drain. Breeze is just the right size to sit in the corner of our sink, ready for scraps and peelings, chicken bones, egg shells, etc. The plastic bag is easy to remove for disposal. It looks so much better than the little plastic paint bucket I had been using! .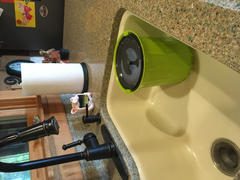 07/25/2020
Sonja P.
United States
Easy
Managing around 25 properties can be chaotic but having these bins in the units has made it a lot easier to handle food scraps. The handle to carry it, and the ring to hold the bag in place are very helpful. Plus, the green color is vibrant and suits most to all kitchens.
Great.
Works great. Design is perfect! Air flow is working. No odors, no flies and no fuss. Only downside is the bag is very thin and did get "weak" after scraps sat for about 2 months. The bag ripped and defeated the purpose of no flies being about to get in it. We keep our compost on our back patio.
BEST COMPOST BIN EVER!
No smell, no leaks, light, smart lid, can put bin on counter. Much better than the metal kind! -jamie Menlo Park, CA
Great Product
This was a great purchase from ePantry. I had been using a small lidded trash bucket, but it would stink after a day or two. I have had no stink with this at all. My only negative is the bags say not for home compost, but I am going to see what happens. Plus it is super cute and takes up no space!