KITCHEN CLEAN UP
Kitchen Cleaning Bundle
---
All the necessary tools to tackle a kitchen cleanup!
Included is the Squeeze Cellulose Sponge Cloths, Refresh Recycled Scrubber Sponges Set of 3, Lean & Mean Scrub Brush, Clean Again Super Absorbent Cleaning Cloths, Splash Patrol Natural Latex Cleaning Gloves, Micro Manager Detail Brush, Suds Up Soap-Dispensing Dish Brush.
Micro Manager is perfect for kitchen sinks, drains, faucets, edges and crevices

Squeeze & Refresh tackle spills, dishes and household cleaning as well as cut back on paper towel use
You May Also Need...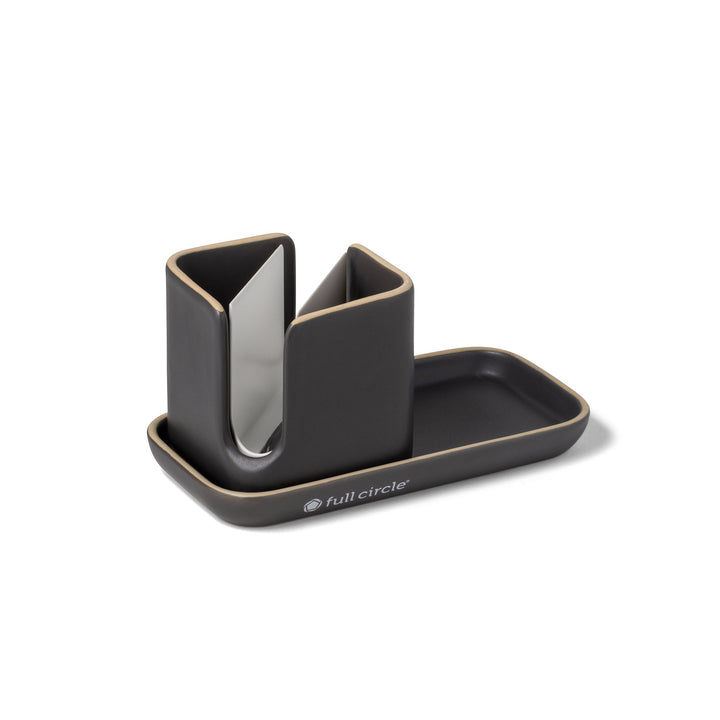 STASH
Modular Ceramic Sinkside Organizer
WHY WE LOVE IT
Clean your kitchen with these powerhouse multitaskers. This bundle puts serious scrubbing muscle in the palm of your hand to get the job done both efficiently and sustainably.
DESIGN
Bonterra™ plant plastic, bamboo, plant fiber bristles, recycled plastic, Latex, Cotton, Rayon, Nylon, Silicone, 95% post-production recycled fibers, cellulose
We're all about the details and that means the whole product lifecycle has been considered, down to the non-toxic coating on the bamboo. Our recycled plastic bristles have super scrubbing power to get the job done making this product both efficient and sustainable.


AT THE CORE
We're honored to be in your home, and promise to make ourselves useful. Not to mention sustainable, reusable, recycled and recyclable, even shareable, compostable, and occasionally huggable. Because we're totally committed to the home you live in, and the one we live on.
CARE INSTRUCTIONS
 Microwave Safe (Squeeze & Refresh): Your microwave can do double duty: reheating last night's pad thai and killing the nasty bacteria found in sponges. One full minute on high should work (just make sure it's wet).
Dishwasher Safe (Squeeze, Refresh, Lean & Mean, Suds Up brush head): Your dishwasher can help give your Full Circle products a new lease on life. Just put all parts in the top rack for a quick refresher and a solid cleaning.
Machine Washable (Clean Again): When things get dusty or crusty, just throw your product in the washing machine for a quick pick-me-up without the fear of spreading harmful dyes. Wash in cold with like colors, tumble dry low, and hold the fabric softener.
Hand Wash (Splash Patrol, Suds Up, Micro Manager): Hand wash in hot water, dry thoroughly.