COMPOSTABLE CLEAR PERFORATED FOOD WRAP
100sq ft Roll Perforated
---
High-performance stretch, tight cling, in perforated squares for easy use

Made with plants (PLA & PBAT) that break down into carbon and water

Meets internationally-recognized standards to safely biodegrade in municipal or commercial composting facilities

100sq ft (9.3㎡) | 11.8" x 101.7' (30cm x 31m)

Ideal for storing leftovers in fridge or freezer
You May Also Need...
COMPOSTABLE ZIPPER BAGS
Gallon Bags 15pk
Did you know?
Our wrap can break down into carbon and water, leaving no trace of microplastics.
Don't feel guilty about throwing it away. We've covered all the details.
Fridge & freezer safe to keep food fresher longer
Matches the high-performance of everyday food-safe wrap
Plant-based compostable plastic (PLA & PBAT)
Stretchy and clings tight to virtually all materials
Compostable | High-Performance Stretch & Tight Cling | Perforated Every 12" | BPA-Free | Plastic-Free Packaging
A wrap on single-use plastic, for good.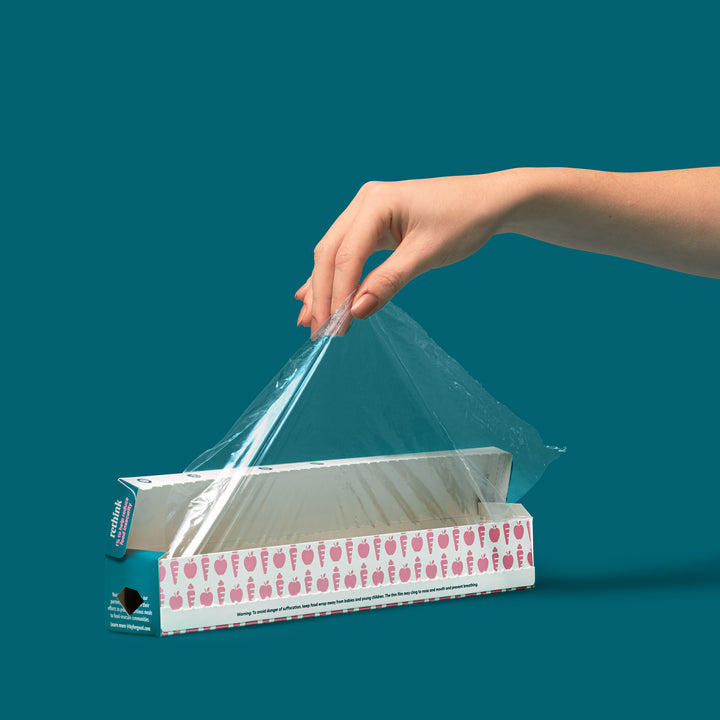 Take Less. Give Back. For Good.
When you want something to cling to metal, glass, plastic, or food itself—but not cling to a landfill for thousands of years—these are your leftover legends. They stretch, cling, protect, and preserve. And then they compost to become carbon and water.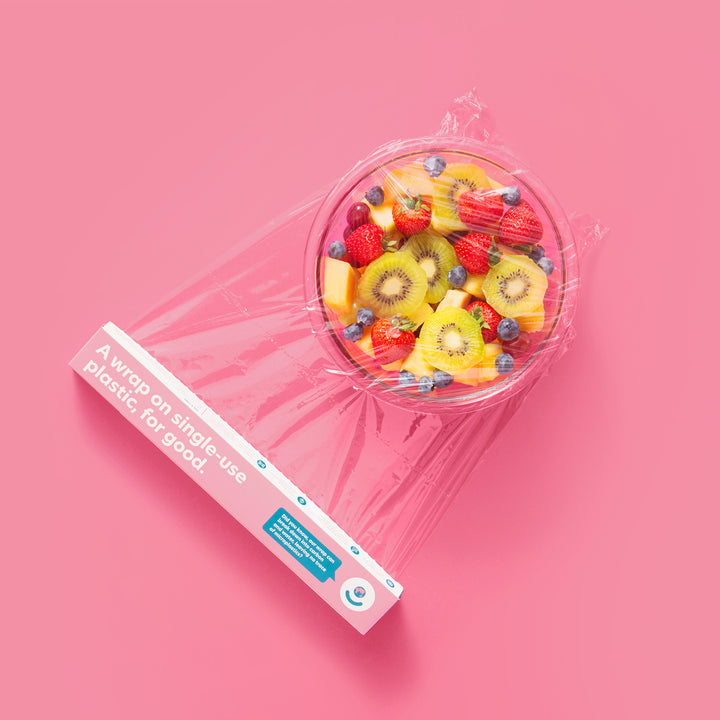 Customer Reviews
Write a Review
Ask a Question
Filter Reviews:
wrap
replacement
edges
food wrap
plastic wrap
cardboard
leftovers
Fruit
FRIENDLY
waste
08/16/2022
Keeley H.

United States
Perfect
Works just like standard cling wrap without the guilty conscious
05/26/2022
Christina V.

United States
Great plastic wrap
It worked great. Stuck to what it needed to. I like that it is compostable. Great thickness to it. Kept my food fresher longer too.
04/27/2022
Akia B.

United States
Food Wrap Without the Guilt
I am so happy to find a food wrap that isn't plastic! It has the look, feel, and functionality of plastic wrap without the plastic. I'm also glad that it's compostable. It just as strong as a plastic wrap, so I'll be purchasing this instead.
04/20/2022
Stephanie

United States
Adheres Nicely
The For Good Compostable clear food wrap is an excellent substitute not just for personal use to keep food fresh but also for doing my part to keep plastics away from landfills. I was very impressed with how much this wrap stuck to my dishes and kept leftovers fresh. I was not impressed with the box itself. It was flimsy and ripped quickly, but the wrap is quite impressive on how sticky it is for being compostable. I love the perforated squares, reminded me of pulling of toilet paper! This was nice, so there was no cutting involved or sharp edges on the box.
03/30/2022
Masrour Z.

United States
It's been great
Does what it's supposed to do and it unburdens me of the guilt of adding more plastic to the trash bin.
02/23/2022
Cece

United States
Awesome product!
I've been thrilled with the quality of this product and I'm excited at how well it does it's job. The only thing I would change is thicker sides for keeping it in the box as it unrolls :)
02/06/2022
Julie N.

United States
Love this despite cons
Finally a functional replacement for disposable needs. This cling wrap is very close to the plastic version, thinner than it's plastic counterpart, clings to itself even more tightly when it folds over but then struggles to adhere when I'm trying to cover a plate (I've had these struggles w/ the plastic version too in full disclosure). It comes perforated every 12" so you have to take a foot or two, no in-betweens. The paper cardboard box it comes in is frustratingly flimsy, and tears in places you don't want it to tear. But in every other way this is an excellent cling wrap and I feel safe using it. Promptly shipped, safely arrive. Recommended.
01/28/2022
Katlyn

United States
Best compostable food wrap I've used
This is the best cling wrap alternative I've found in terms of performance and ease of use. Like other reviewers, I was confused about how to cut it but quickly realized it was perforated which actually makes it super easy to use and prevents it from tearing and balling up like other brands. I am working towards cutting out single plastic use as much as I can, even the compostable kind. But there are certain situations when only cling wrap can do the job (does anything else actually keep an avocado half fresh??) In these cases, I feel better reaching for this, hoping it will decompose in my city's compost facility vs. rotting in a landfill and doing even more harm to the environment.
01/27/2022
Kaylee R.

United States
01/22/2022
Darlene

United States
Pleasantly surprised
Couldn't wait to try this! Great stretch and cling.At first I couldn't figure out how to cut it,then I realized it was perforated! My bad! This is really nice and you no longer have to avoid using plastic wrap.