DRINKWARE CLEANING
Drinkware Scrub and Clean Set
---
Set of all essentials to clean any drinkware in your sink!
Designed to clean inside tall glasses with layered cellulose sponge removes lipstick marks thanks to the Crystal Clear 2.0
Clean Reach has the perfect fit for on-the-go drinking bottles and mugs

Double-headed design cleans inside and outside with the Reach Bottle Brush

Four piece Little Sipper set includes small & large straw brushes, curved lid brush, and detail nib
Tidy has extra soft, absorbent and long-lasting

Crystal Clear 2.0 Dimensions: 2.75" x 2.75" x 8.66" | 7cm x 7cm x 22cm
Clean Reach Dimensions: 2.36" x 2.36" x 11.41" | 6cm x 6cm x 29cm
You May Also Need...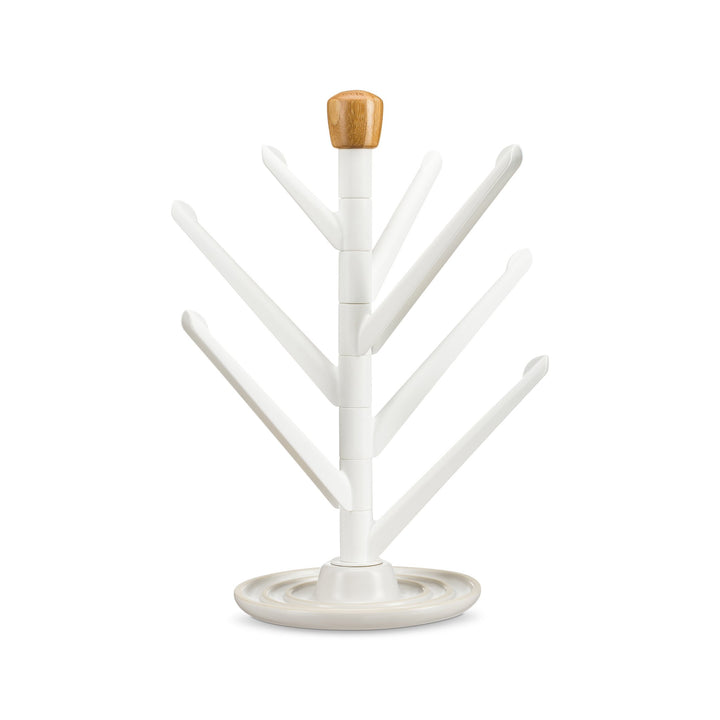 BRANCH OUT
Upright Drying Rack
WHY WE LOVE IT
Never be without clean drink ware again thanks to the Drinkware Cleaning Set! This kit everything you need to clean precious drink ware heirlooms to practical everyday glasses.

Included is the Little Sipper Drinkware Cleaner, Crystal Clear 2.0 Replaceable Glass Cleaner, Clean Reach Replaceable Bottle Brush, Reach Bottle Brush and Tidy Dish Cloth Set.
DESIGN
Nylon bristles, recycled plastic, stainless steel, cellulose, bamboo, recycled stainless steel, 100% organic cotton

We really wanted to find a way to safely clean glasses when we designed the Crystal Clear. But we were even more determined to keep you safe - that's why you'll find a non-toxic coating on the bamboo handle, certified recycled plastic and absolutely no triclosan in the cellulose sponge. Our certified recycled plastic bristles have super scrubbing power to get the job done making this product both efficient and sustainable.

AT THE CORE
We're honored to be in your home, and promise to make ourselves useful. Not to mention sustainable, reusable, recycled and recyclable, even shareable, compostable, and occasionally huggable. Because we're totally committed to the home you live in, and the one we live on.
CARE INSTRUCTIONS
Washing Machine (Tidy): When things get dusty or crusty, just throw your product in the washing machine for a quick pick-me-up without the fear of spreading harmful dyes. Wash in cold with like colors, tumble dry low, and hold the fabric softener.

Dishwasher Safe (Little Sipper, Reach, Clean Reach top, Crystal Clear 2.0 top): Your dishwasher can help give your Little Sipper a new lease on life. Just put these in with your silverware or horizontal on the top rack for a quick refresher and a solid cleaning.

Hand Wash (Clean Reach base & Crystal Clear 2.0 base): Products like this do best with a thorough wash in warm, soapy water. Just let it dry thoroughly before using and you'll be ready to go. Bamboo Care: Help keep your bamboo products gorgeous by avoiding any prolonged soaks and using a natural cream or oil to restore their natural glow.