You May Also Need...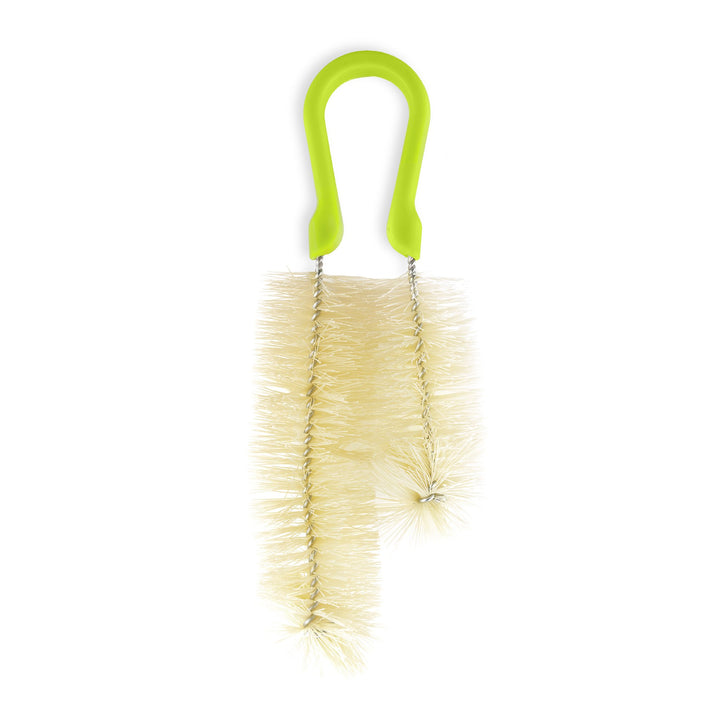 WHY WE LOVE IT
Water, tea, coffee, smoothies - we hydrate all day long to feel good and keep moving. And keeping our favorite bottles and containers clean is essential to a healthy drinking experience. No need to wish upon a star to know what's lurking in those complicated lids and straws. The Little Sipper is perfect for getting standard + smoothie straws, and lids of all types, sparkly clean.
DESIGN
Nylon bristles, recycled plastic, stainless steel
The ergonomic handles and no-scratch bristles are a dream to use, and the set hangs to keep clean and dry.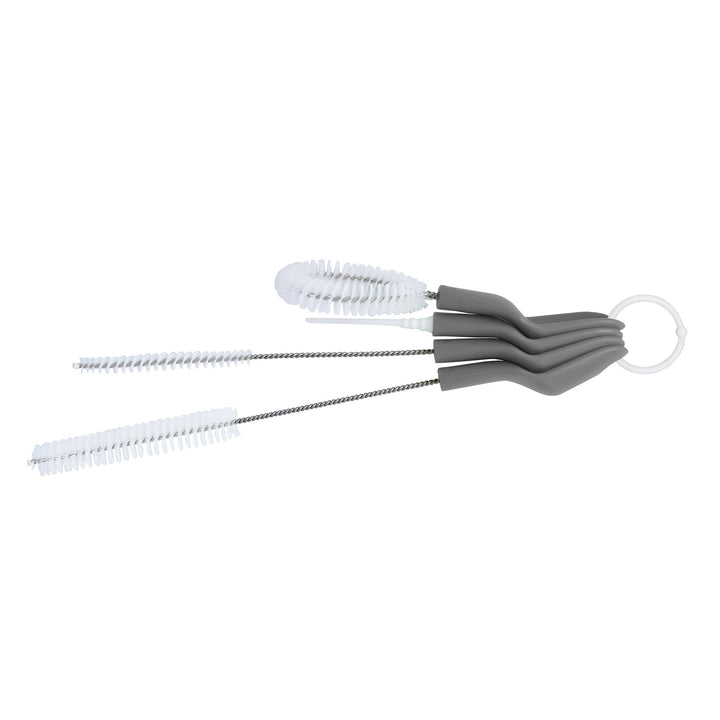 AT THE CORE
We're honored to be in your home, and promise to make ourselves useful. Not to mention sustainable, reusable, recycled and recyclable, even shareable, compostable, and occasionally huggable. Because we're totally committed to the home you live in, and the one we live on.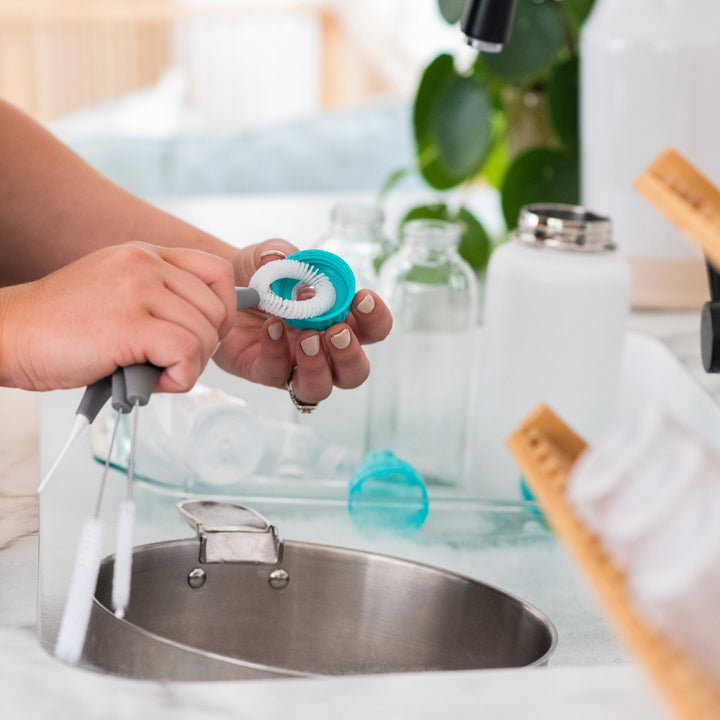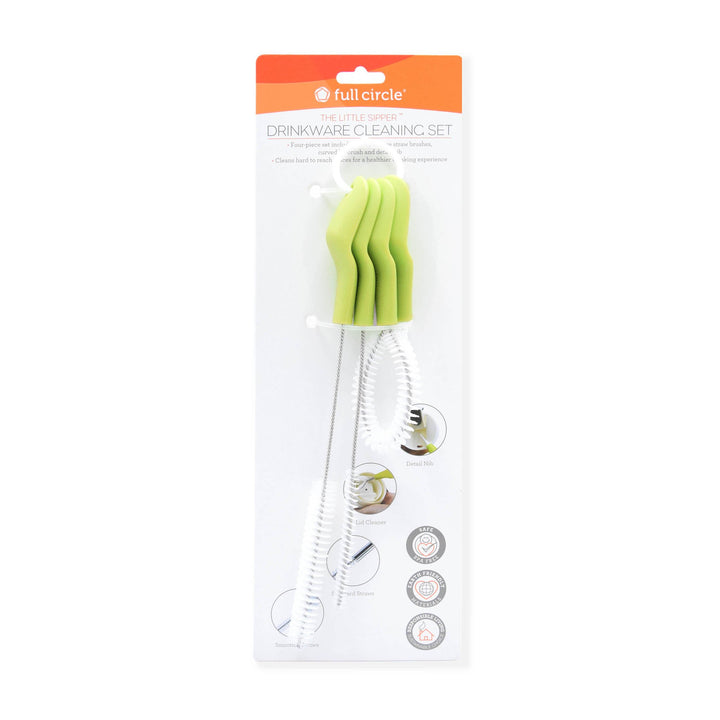 CARE INSTRUCTIONS
Your dishwasher can help give your Little Sipper a new lease on life. Just put these in with your silverware or horizontal on the top rack for a quick refresher and a solid cleaning.
Customer Reviews
Write a Review
Ask a Question
Filter Reviews:
straws
Little Sipper
feeder
tubes
hummingbird feeder
edges
each
gifts
dishwasher
description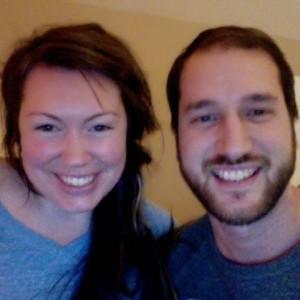 JT
06/27/2022
Jillian T.

United States
Good Quality and Useful
Are use these to clean out straws and the inside of my water bottle straw and openings, etc. They work great. Good quality, not ****, and very useful.
Great at first
I bought this set in May 2021 and absolutely loved it, until November 2021 when two of the fours brushes pulled out of their plastic handles. When I contacted customer service with images of the damaged brushes and inquiring about the warranty, I was told that "this one time" they'd send me a replacement…When I received the replacement I noticed the quality of the brushes was not as good as my original set. And, sure enough, within a month of receiving them, many of the little bristles have fallen off, rendering the tool useless. If you could be guaranteed to receive a set of brushes that was the quality of my original set, I'd say go for it and keep your expectations for longevity low. But now considering the quality of this new set I received, I'd say skip the purchase all together. Too bad…
12/31/2021
Sarah M.

United States
10/22/2021
Stacey B.

United States
It Works
So far so good. No issues wit this item. Works well at cleaning my straws.
09/13/2021
Ann S.

United States
I USE IT OFTEN
This set of brushes is perfect for cleaning cat fountains, hummingbird feeders, reusable straws and water bottle tubes. The circular one is genius for getting into small edges. I especially like that it's used from recycled materials and dishwasher safe.
04/15/2021
Joyce C.

United States
Sipper
i purchased the "Little Sipper" for gifts to be given at a later date, but I am impressed by your description of its use. It looks so unique. I am sure it will be put to good uses
03/24/2021
Joyce B.

United States
Hummingbird feeder brush
I bought this to clean my hummingbird feeder. After trying so many things at home, nothing could get in the tiny tubes to clean each feeder. The stiff nib and the smallest brush worked to get clean each of the 10 tubes cleaned.
03/17/2021
Bailey H.

United States
Okay
They're ok. The brushes work well and the different shapes and sizes are nice. The poker is ok, it work but is almost too flimsy to clean out my toddlers sippy cups. Maybe an additional tool that has a soft hook or other digging like usage on the end would be helpful.
03/17/2021
Irene P.

United States
Handy tool
Perfect for all bottle sizes. Gets into all nooks crannies.
03/11/2021
susan W.

United States
Great little cleaners
Great easy to use & clean love them