THE DOUBLE AGENT WAND
Interchangeable Brush and Sponge Wand Bundle
---
Clean Reach head has a slim, elongated design to fit for on-the-go drinking bottle necks and mugs

Magic Wand head's layered cellulose sponge scrub your slim glassware clean, even baby bottles!

Easily interchange wand's head for your different scrubbing needs!

Replaceable heads extend use while minimizing waste

Clean Reach dimensions: 2.36" x 2.36" x 11.41" | 6cm x 6cm x 29cm

Magic Wand Refill dimensions: 2.36" x 2.36" x 5.21" – 6cm X 6cm X 13.2cm
You May Also Need...
BUBBLE UP
Dish Brush & Ceramic Dish
WHY WE LOVE IT
Tackle bottles, glasses, mugs, and more with our Double Agent Wand Bundle. With interchangeable heads perfect for any occasion, the Magic Wand cellulose sponge is ideal for all things glass, while the Clean Reach leaves bottles brilliant and bright.

Included is the Clean Reach Replaceable Bottle Brush and the Magic Wand Refill Glass Cleaner Refill. 

DESIGN
Nylon bristles, bamboo, recycled plastic, cellulose
We're all about the details and that means the whole product lifecycle has been considered, down to the non-toxic coating on the bamboo. Our certified recycled plastic bristles have super scrubbing power to get the job done making this product both efficient and sustainable.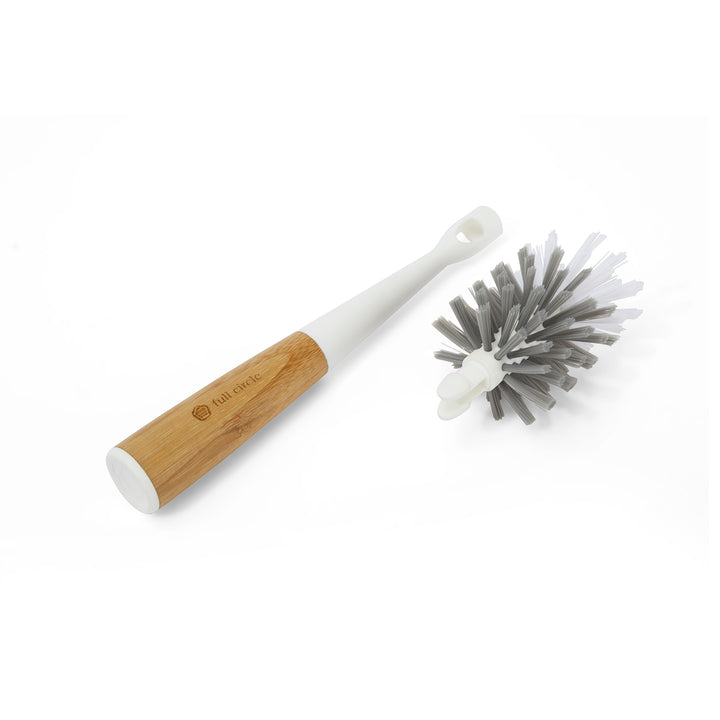 AT THE CORE
We're honored to be in your home, and promise to make ourselves useful. Not to mention sustainable, reusable, recycled and recyclable, even shareable, compostable, and occasionally huggable. Because we're totally committed to the home you live in, and the one we live on.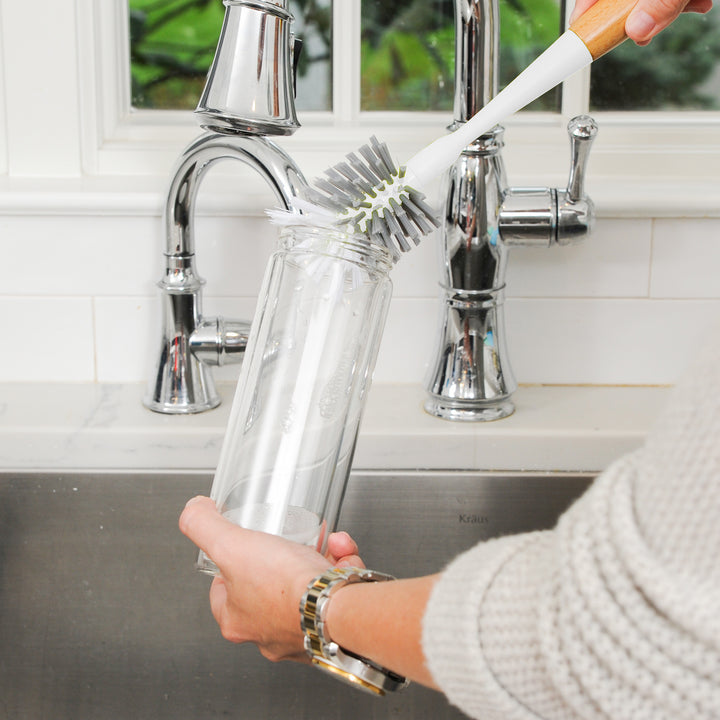 CARE INSTRUCTIONS
Dishwasher Safe (Brush & Sponge head): Your dishwasher can help give your Full Circle products a new lease on life. Just put it on the top rack for a quick refresher and a solid cleaning.

Hand Wash: Products like this do best with a thorough wash in warm, soapy water. Just let it dry thoroughly before using and you'll be ready to go.
Bamboo Care: Help keep your bamboo products gorgeous by avoiding any prolonged soaks and using a natural cream or oil to restore their natural glow.
Customer Reviews
Write a Review
Ask a Question
Filter Reviews:
replacement head
wand
hopes
mission
sponge head
brush head
issue
head
trouble
LOVE
02/19/2022
Kimberly

United States
Replaceable head!
I am loving this wand. I am currently using the sponge head and my only issue is the handle could be a little longer (for tall thermoses). I, of course, didn't measure so as long as I can still wash them, it's all good. I fell in love with this item upon searching the stores for yet ANOTHER sponge wand. I hated the idea of throwing the entire head & handle away each time. I went to Amazon & found this one. On Amazon, however, the replacement head is not available for purchase. On to the search! I was on a mission to find this product in hopes, I could purchase the replacement head. SO happy I found them! The handle is nice because you can simply stand it up in your sink or off to the side to allow it to dry. I haven't used the brush head yet. I DID have a bit of trouble getting the brush head off in order to put the sponge head on. I was finally successful and was pleased afterward with how snug the fit is, ensuring it doesn't just pop off while I am washing.