OUT OF THE BLUE
Recycled Plastic Medium Lunch Hobo
---
Eliminates the need for single-use bags
Our ocean inspired designs repurpose plastic-waste to create a durable, recycled fabric, certified by the Global Recycled Standard (GRS)
Recycled plastic helps to divert plastic from landfills
Perfect for daily lunches and beach days
11.81" x 8.86" x 6.69"| 30cm x 22.5cm x 17cm
WHY WE LOVE IT
A clean earth matters. We believe that a more responsible lifestyle benefits everyone and everything, from our neighbors and friends to the planet and its resources. All we need are the right tools. Introducing the newest collection: recycled and reusable products that replace single use plastic items
DESIGN
GRS Certified recycled water bottles (rPET) & Cotton Twill Handles
Ocean Inspired Designs include Waves and Whales
Made of recycled plastic bottles, your purchase helps divert plastic waste from landfills.
Replaces traditional virgin fabric or plastic coolers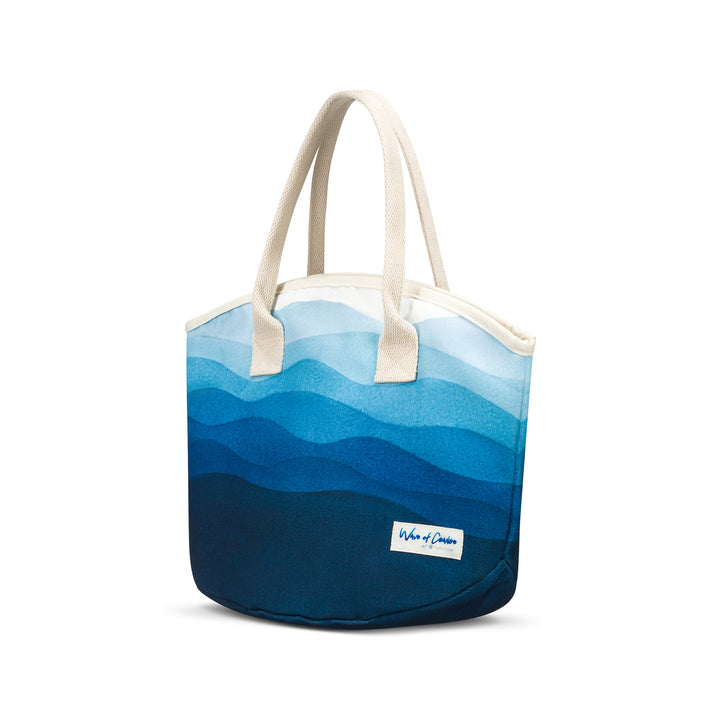 AT THE CORE
We're honored to be in your home, and promise to make ourselves useful. Not to mention sustainable, reusable, recycled and recyclable, even shareable, compostable, and occasionally huggable. Because we're totally committed to the home you live in, and the one we live on.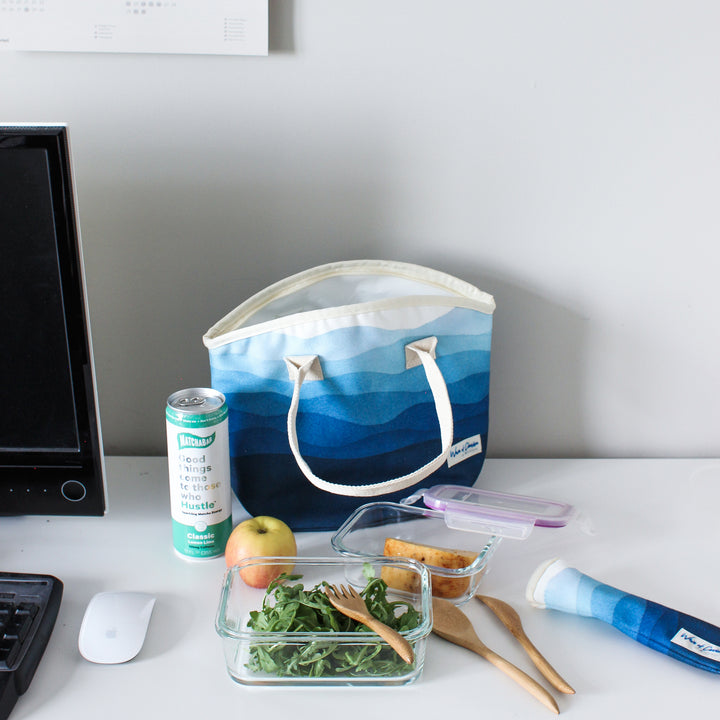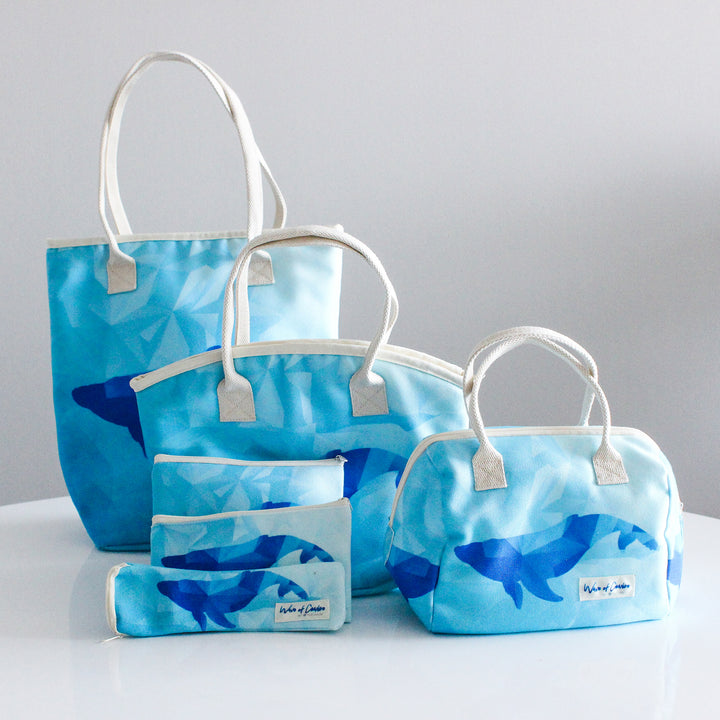 CARE INSTRUCTIONS
Machine wash cold on delicate cycle, wash separately or with similar colors, Do not bleach, do not tumble dry, cool iron only
Customer Reviews
Write a Review
Ask a Question
Whale theme is what sold me
There's lots of lined lunch totes on the market but what makes this one special is the whale theme. It's in muted blues and grays and just right for a Cetacean lover like me. I especially like the plastic lined bags as you don't have to worry about leakage. This size is also great for storing in lockers - not just school but places like Disneyland. My family and I often pack a lunch when we go to the theme park, store it in a locker and then picnic to save money on expensive food. This is cute and gets lots of good comments. Love the whales.
Great reusable lunch bags!
I got two of these reusable lunch bags in different sizes because they are much easier to clean than the one I had in the past. This one is canvas with an insulated lining on the inside with a metal zipper closing. I got two so I can clean it every other day and alternate use. I had a frozen bottle of water I was using as an ice pack leak a bit and the inside lining kept it from leaking out. Cleans and dries easily so it won't stink or cause mildew like some I've experienced in the past. Overall, good product.
Cute
Generous sized insulated lunch bag. Great for carrying lunch or even snacks for a group. Keeps things cool and fresh under normal conditions. Easy to wipe out to clean. Cute design too.
07/15/2020
Cybele A. Baker
Lovely bag
it can fit enough items for a full lunch and is very well constructed it keeps my cold stuff nicely chilled but like most of these bags you still need something in the bag to keep stuff like beverages cold enough by lunch time. And I really like the artwork on the bag.
Attractive and functional
My wife has been using this bag all summer and loves it. It looks great and performs great, keeping her lunch cool and dry.
Eco friendly and attractive
Beautiful exterior, lightweight and comfortable to hold. Insulated and lined so it is easy to wipe clean. folds flat for storage, and will hold several containers or beverages. It is slightly shorter than I had hoped, and the top of my 40oz Hydroflask sticks out the top, but i anticipate it being the perfect lunchpail for when I return to the office.
Cute, environment-friendly lunch tote
I like the look of this medium lunch tote. It has different shades of blue with a whale on the outside and a white, easy to clean lining on the inside. The handles are white and are made for carrying the bag as a tote, but aren't long enough for your shoulder. I also like the full zipper closure at the top of the bag. Another inside or outside compartment would have been nice, but it's still an attractive lunch bag. In addition to looking nice, this lunch tote helps the environment in two ways. It's made from recycled materials, and it eliminates the need to use disposable lunch bags each day. One downside is the bag isn't as roomy inside as I thought it would be. The description says it holds eight cans, but I wouldn't try to put that much into this bag because it would be quite a strain on the zipper. However, it works well for a lunch bag or for bringing a snack to the park or pool.
Pretty machine washable insulated lunch bag
We try to use as many eco friendly sustainable products in our household as possible, I was quite excited to find Wave of Change products. I love that this bag is made from recycled product to replace disposables. This is a very roomy lunch bag! This will be my new go to for bringing beverages to summer barbecues and parties, it can easily hold bottles or cans. My bad had a small sewing defect along the trim, but nothing that would affect function or stop me from bringing this cute bag along! I love that I can just toss this bag in the machine to get extra clean. I received this product in exchange for an honest review.
Beautiful and well-made
First off, I love that it is good for the oceans and furthers a cause. I also love the design, the style and how well it is made. The medium size is a bit smaller than I thought but I can still use it for most of my lunches. Holds cold reasonably well. Definitely recommend
I LOVE that this is made from recycled material!
This bag is so much prettier in person than it appears online and it is plenty big enough for six cans with ice or maybe even eight or nine cans? You can see how much room I have left in the pictures after putting six cans inside. I own several types of cooler bags like this one but none of them seem to be as durable as this one is. And none of them are made from recycled material, which is what I absolutely love about this product in particular. This would be great for a day at the beach, fishing trip, hiking trip or a road trip.