You May Also Need...
BEACHY CLEAN
Heavy Duty Coconut Scour Pads Set of 3
WHY WE LOVE IT
Ever notice that walnuts look like little brains? Pretty cool. What's more impressive is that their shells work as a natural abrasive to scrub surfaces without scratching. Now that's smart. Walnut shells have serious scrubbing power but that doesn't help if you're allergic to nuts. Not to worry, these pads won't cause a reaction.
DESIGN
Walnut shells and recycled water bottles (rPET)
Dusting keeps your home clean and the allergens away. These colorful cloths are made with non-toxic dyes to keep you safe.
AT THE CORE
We're honored to be in your home, and promise to make ourselves useful. Not to mention sustainable, reusable, recycled and recyclable, even shareable, compostable, and occasionally huggable. Because we're totally committed to the home you live in, and the one we live on.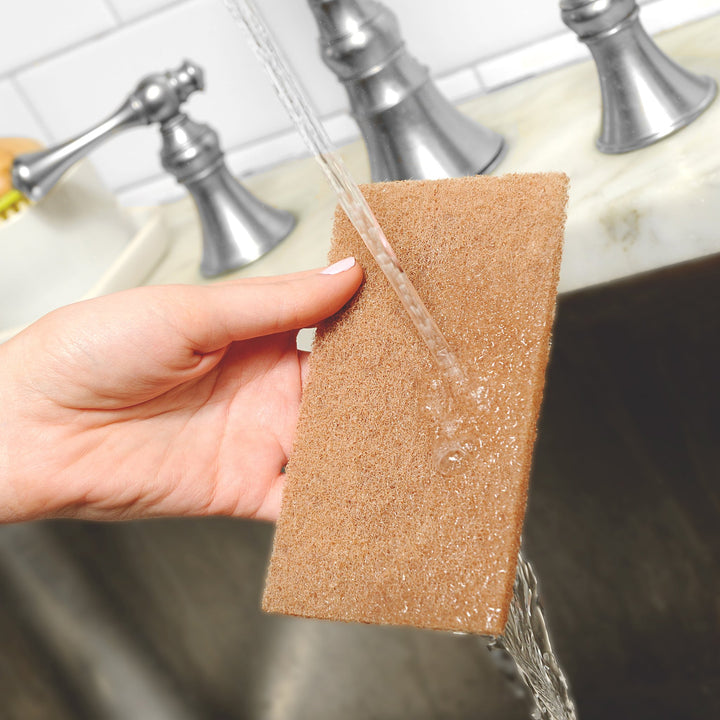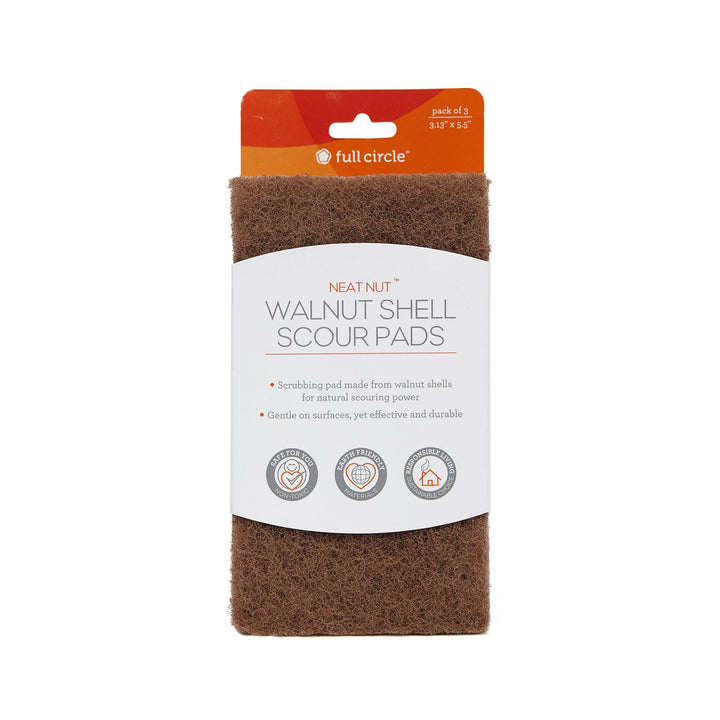 CARE INSTRUCTIONS
Hand Wash: Products like this do best with a thorough wash in warm, soapy water. Just let it dry thoroughly before using and you'll be ready to go.
Customer Reviews
Write a Review
Ask a Question
Filter Reviews:
effect
planet
same
option
products
plastic
pads
search
07/24/2023
Orit B.

United States
Great product!
I love knowing that I'm using a product that has a minimal or no negative effect on our planet! This product is at least as good as other more toxic products that do the same.
06/02/2023
Robert B.

United States
Ch-ch-ch-changes?
When I bought these a few years ago, the package said they were made from only walnut shells. How happy to be able to use and compost a cleaning pad instead of throwing it out. The recent purchase of these now says is made from walnut shells and plastic bottles!
04/24/2022
Cayla

United States
Effective but NOT compostable
These are better than plastic scour pads, but I'll be continuing my search for a compostable option. They work great but they are still 70% recycled plastic and cannot be composted. Please don't compost these.
05/11/2022
Full Circle Home
Hi Cayla! For a 100% compostable option, check out our Zero Waste Coconut & Latex Scrubbers here!https://fullcirclehome.com/products/zero-waste-coconut-scrubbers?variant=41376852377769
01/31/2022
Dee Q.

United States
Great!
So far, so good. It gets off stuck on food, BUT is safe for nonstick cookware. It is a mighty little scrubby, more powerful than it looks. I've only been using this for a couple weeks, but as it stands now, I would repurchase.
durable
Keeps scrubbing and scrubbing! No scent required.
Great scrubber
I use this for scrubbing away stuck-on food from dishes and to clean the stove, they work great.
Good for scrubbing dishes
These scrape off dishes with ease. One lasts a whole month if washed after use with hot water and dawn soap. Would recommend.
05/28/2021
S. MounceMoses
Will order again
Works great. Thin, but makes it easy to clean corners of pans.
Better than plastic
Great substitute for plastic scrubbies. Better for the environment. These last a long time and work very well.
Works as well as plastic and synthetic products
Very durable. Can be washed in dishwasher and holds up for weeks. Works great on all materials. I still use steel for some copper, aluminum, and glass bakeware cleaning but this my go to for everyday use.I compost these directly into compost pile or compost bin. Breakdown probably in years maybe less depending on how used it is.I cut mine in half to get more use out of them. Have these in Subscribe and Save. Highly recommend. Works easily as well as Scotch brand plastic products.