You May Also Need...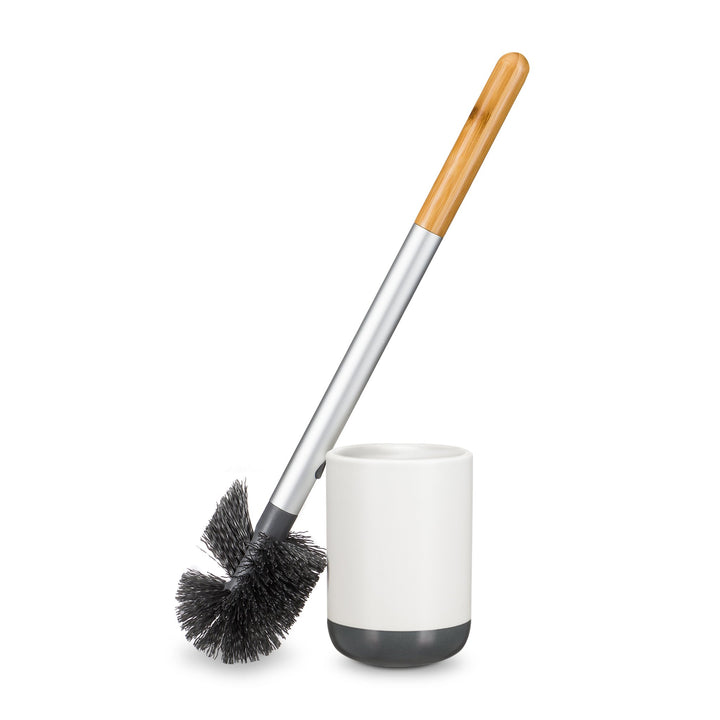 WHY WE LOVE IT
People update their bathrooms all the time. New fixtures, a fresh coat of paint. You know what the easiest upgrade is? A new plunger. This one is sleek and has an added bonus: we put a naturally absorbent disk at the bottom that will prevent odor and mildew. Plunge royally.
DESIGN
Dry Earth, Recycled Aluminum, Ceramic, Bamboo, ABS, Rubber
Finally, a plunger you wont have to hide away. Includes a beautiful ceramic base (plus the power of a moisture and odor absorbing Dry Earth insert.) You hope to not use it, but it's ready when you need it.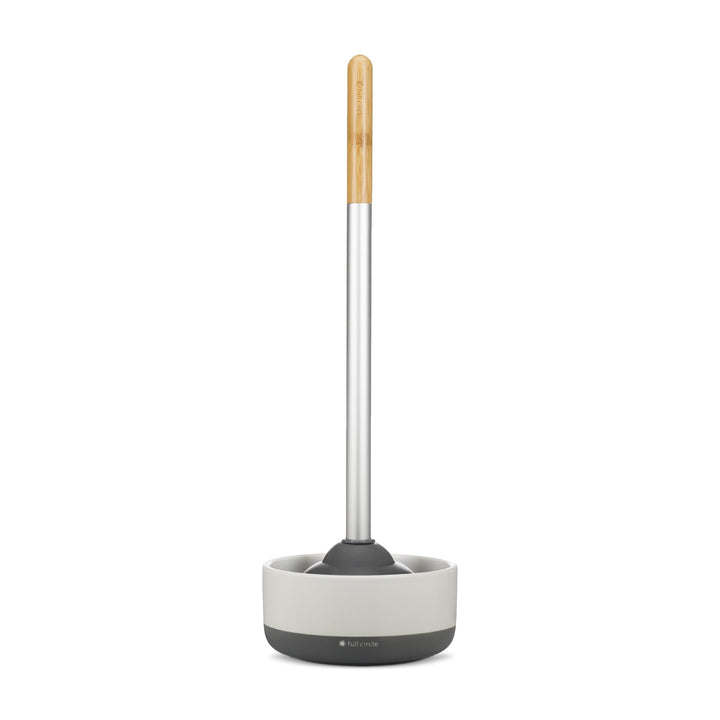 AT THE CORE
We're honored to be in your home, and promise to make ourselves useful. Not to mention sustainable, reusable, recycled and recyclable, even shareable, compostable, and occasionally huggable. Because we're totally committed to the home you live in, and the one we live on.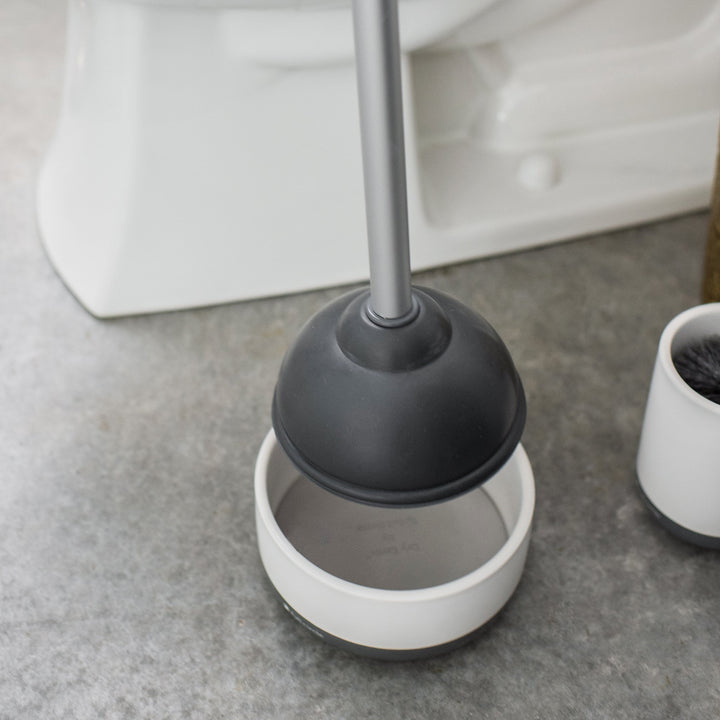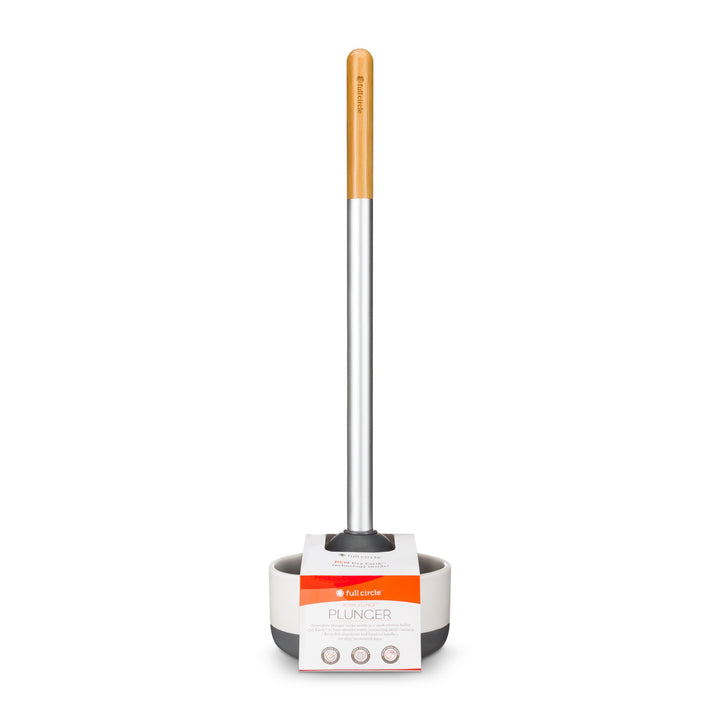 CARE INSTRUCTIONS
Switch out the Dry Earth™ disk every 6 months Ceramic base is dishwasher safe
Customer Reviews
Write a Review
Ask a Question
Filter Reviews:
plunger
bathroom
Full Circle
holder
water
toilet brush
fact
hardware store plunger
plumbing
DryEarth
11/29/2023
Alice

United States
02/16/2023
Amanda V.

United States
The rubber is flimsy
The rubber is not very sturdy and just rolls backward when attempting to plunge. Does not form a good seal around the toilet drain opening. I like the look and the base is great but the rubber is just too flimsy. Also, toilet plungers should not be flat bottomed, but rather need the extended part that is shaped like the drain opening.
11/06/2022
Aaron C.

United States
Pretty good plunger
I really like this plunger! It's pretty good! Works so much better then my old 1 from walmart. I Hope they upgrade it To a even better, more fancy 1. I'd buy it. Like the toilet brush definitely needs to be redone. But I do love that they both match and are aesthetically pleasingAaron cohick ⭐️⭐️⭐️⭐️⭐️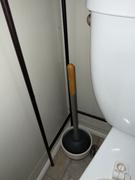 05/31/2022
Lauren L.

United States
So happy
I already own the toilet brushes (bough from Grove) and absolutely love them. They are sleek and look nice in any bathroom. I knew I had to get this plunger too, but Grove doesn't sell the ****** style. It didn't occur to me to try direct from Full Circle, but I'm glad I did. I was able to find the ****** style. This is the most genius design for a plunger. I love the diatomaceous earth stone to catch the excess water- and the fact that it can be changed out makes me feel great about germs. I will be ordering two more for the other bathrooms in our house.
03/18/2022
Melanie S.

United States
01/20/2022
Budd B.

United States
Beautiful! Sleek!
A very high-end looking plunger! Love the ceramic bowl that is sits in with absorbing rock in it. We have it in our AirBnB and it is classy.
01/19/2022
Bonnie G.

United States
Best Plunger Ever!
Who in their right mind falls for a toilet plunger??! Me. It works better than most but the best part is the diamateous disc in the holder. Ingenious. I bought spares for the future or maybe a birthday gift for someone really special. And might I add, Full Circle has tremendous customer service! I was the manager of customer service and know what I am talking about. Bravo, Full Circle.
12/31/2021
Sarah M.

United States
10/29/2021
Kerry M.

United States
SO pretty
Love this plunger. I don't have a ton a storage room in my master bath, this plunger looks great placed in the corner. So pretty to look at & never have to worry about leaving a drippy mess on my bathroom floor.
10/14/2021
Joshua B.

United States
Plunger
Love the disk in the holder