SINK MATES
Sinkside Cleaning Set
---
All your favorites mates for the sink!
Bubble Up's ceramic base acts as soap dispenser & spring-loaded to create extra suds
Stash's Modular design shifts as needed to custom-fit your personal sink scrubbers & supplies

FOMO foam pumps right through the brush head and comes with an extra pair of replaceable bamboo dish brush heads
Bubble Up's Dimensions: 3.27" x 3.27" x 4.49" | 8.3cm x 8.3cm x 11.4cm

FOMO Dimensions: 11.41" x 1.57" x 2.56" | 29cm x 4cm x 6.5cm

Stash Dimensions: 7.87" x 4.24" x 4.25" | 20cm x 10.76cm x 10.79cm

WHY WE LOVE IT
Eco-friendly FOMO Foam Dispensing Dish Brush teams up with our other sink favorites to attack grease and grime. Sink Mates Sinkside Cleaning Set makes kitchen cleanup a breeze!
Included is the Bubble Up Dish Brush & Ceramic Dish, Be Good Dish Brush, FOMO Foam Dispensing Dish Brush, In A Nutshell Walnut Scrubber Sponge, Tidy Dish Cloth Set, Stash Modular Ceramic Sinkside Organizer. All your mates to get the dishes done!
DESIGN
Sustainable ceramic, recycled plastic, bamboo, Bonterra™ plant plastic, plant fiber bristles, 100% organic cotton, walnut shells, cellulose

All of our products are made to be safe for you, down to the smallest details. We never, ever use toxic coating on our bamboo and the ceramic base keeps your brush stored neatly, drying out the bristles to reduce the risk of bacteria build up.
AT THE CORE
We're honored to be in your home, and promise to make ourselves useful. Not to mention sustainable, reusable, recycled and recyclable, even shareable, compostable, and occasionally huggable. Because we're totally committed to the home you live in, and the one we live on.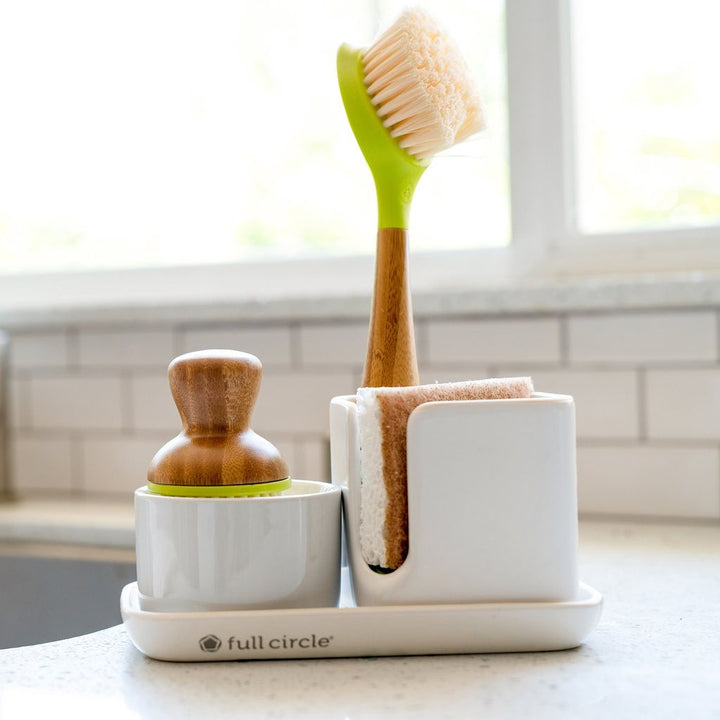 CARE INSTRUCTIONS
Dishwasher Safe (base of Bubble Up, brush head of FOMO, Stash): Your dishwasher can help give your Full Circle products a new lease on life. Just put the ceramic base in the top rack for a quick refresher and a solid cleaning.
Hand Wash (brushes, handle of FOMO):The brushes does best with a thorough wash in warm, soapy water. Just let it dry thoroughly before using and you'll be ready to go.
Bamboo Care: Help keep your bamboo products gorgeous by avoiding any prolonged soaks and using a natural cream or oil to restore their natural glow.