OUT OF THE BLUE
Recycled Plastic Small Lunch Satchel
---
Eliminates the need for single-use bags
Our ocean inspired designs repurpose plastic-waste to create a durable, recycled fabric, certified by the Global Recycled Standard (GRS)
Recycled plastic helps to divert plastic from landfills
Perfect for daily lunches
7.87" x 6.30" x 5.90"| 20cm x 16cm x 15cm
WHY WE LOVE IT
A clean earth matters. We believe that a more responsible lifestyle benefits everyone and everything, from our neighbors and friends to the planet and its resources. All we need are the right tools. Introducing the newest collection: recycled and reusable products that replace single use plastic items
DESIGN
GRS Certified recycled water bottles (rPET) & Cotton Twill Handles
Ocean Inspired Designs include Waves and Whales
Made of recycled plastic bottles, your purchase helps divert plastic waste from landfills.
Replaces traditional virgin fabric or plastic coolers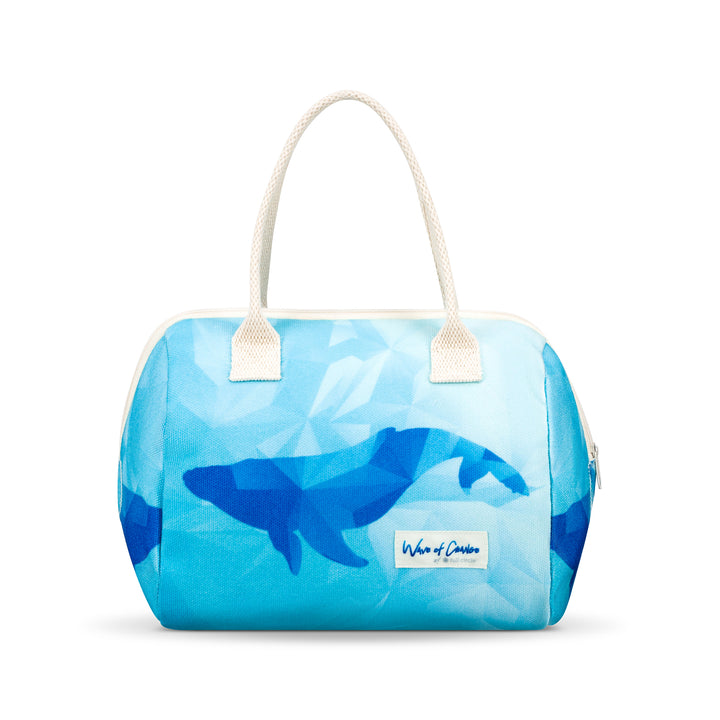 AT THE CORE
We're honored to be in your home, and promise to make ourselves useful. Not to mention sustainable, reusable, recycled and recyclable, even shareable, compostable, and occasionally huggable. Because we're totally committed to the home you live in, and the one we live on.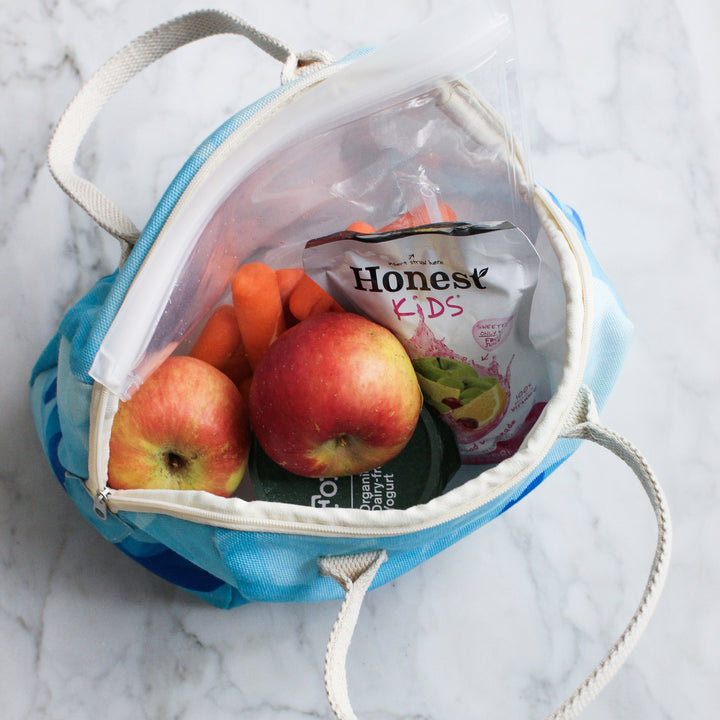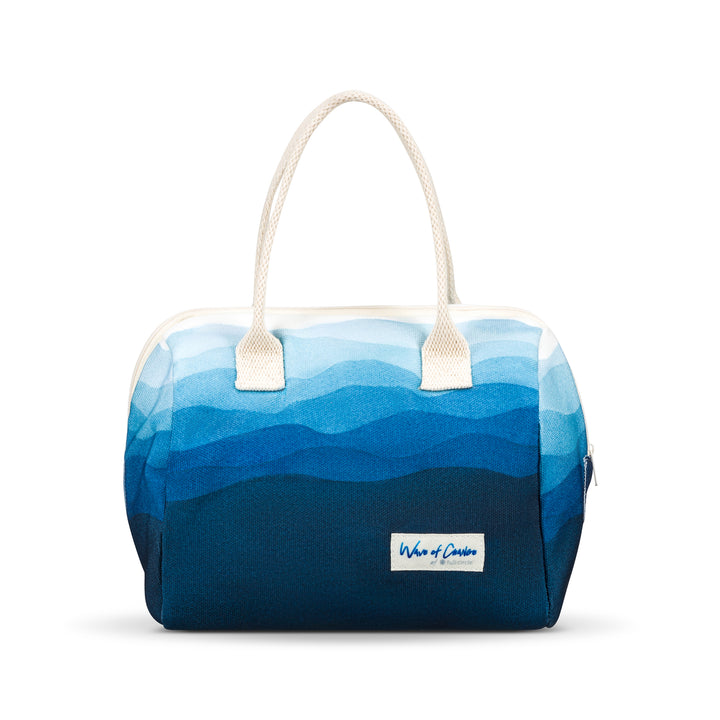 CARE INSTRUCTIONS
Machine wash cold on delicate cycle, wash separately or with similar colors, Do not bleach, do not tumble dry, cool iron only
Customer Reviews
Write a Review
Ask a Question
Small
This lunchbox is cute, but it's smaller than what I expected. It's great for a day to day lunch.
Beautiful design
Overall it is just a very nice lunch bag, I like it a lot. The inside pocket holds my silverware. Easy to clean. Love it! Plenty of room plus beautiful design. Great as a gift as well.
Great snack bag
Cute bag for keeping snacks in while going on road trips. Great for lunches or snacks. Durable and has lasted us several weeks so far. We travel a lot in our car sight seeing and visiting new towns/cities and this bag is great to keep in between meals foods to munch on while traveling. Keeps snacks from getting hot and melting (we are in a warm area).
Perfect for work lunch or picnics!
This is a perfect sized lunch pail for work. I'm also planning to use it for picnics during shelter in place. The insulation works well at keeping items hot or cold, and the outer fabric is sturdy and will probably hold up well over time. Seems like it will be easy to wipe the inside clean, probably gently hand wash the outside. I really like the message of this company as well, recycled plastic waste into reusable items.
Perfect size for lunch, easy to clean!
Love the feel of soft canvas material and it's perfect for on the go lunches! The plastic inside is thick enough that I don't feel like it's going to rip and leak through. It's also perfect for rinsing Incase there is a leak from my food. Super nice colors and folds up nicely for storing between uses.
Wave of Change Recycled Insulated Snack Bag
This bag is so pretty and functional. The outside is a durable canvas material while the inside is lined like lunch bags are so will be easy to clean inside and out. It is probably too small to use as an actual lunch bag, but will definitely work great for snacks or other small items you might want to keep cold. I plan to use this when traveling for a few snacks. I love that it's made from recycled materials too.
Well-made bag, bit small for lunch
This lunchbox is very adorable and well made, but kind of on the small side. Generally a good size if you eat a modest amount of food and don't want a bulky lunchbox. The outer wave print that I got looks very pretty, albeit less vibrant than the pictures show. The zipper and handles feel very secure, and the inside is well-padded with thermal insulation. Supposedly this lunchbox can fit up to 6 cans, but that's pushing it. It can comfortably fit one medium-sized lunch container, some utensils, and maybe a beverage can or piece of fruit. When I used to take my lunch to work with me, I would prefer to bring multiple lunches at once, and this bag would be too small for that. That said, although this bag is advertised as a lunch container, it is also excellent for carrying toiletries, which is what I use it for now. It is leak-proof so none of my toiletries can spill inside it. Ultimately, this is a well-made bag, but be aware that it is a very small bag if you want to carry lunch.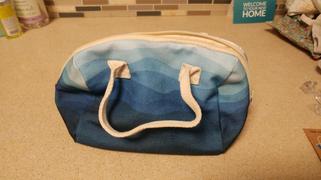 recycled and works great
This makes a perfect lunch bag/snack bag. It's smaller sized but will hold a sandwich and soda or 6 cans easily like it says. It's insulated but not a cooler but with an icepack it keep things cold for several hours. Easy to wash out when done. The design is nice and can be used by men or women.
nice and attractive
This is a well-made handbag. The material is sturdy and so is the stitching so it ought to last for a long time. The insulation is well done, also. I have the small size which says it accommodates 6 soda cans, and yes, it does. But that fills it completely so you can't put anything else in, and despite it being insulated, I would advise using an ice pack if you are planning on not consuming the contents for a while.All in all, this is a very nice bag that looks good, too. The blue wave pattern just looks refreshing.
Pretty and environmentally friendly
This brand is so great. All the products are ones I truly want to use and reuse. They are durable, pretty, and great for the environment. It's the perfect size for lunch or snacks. Definitely recommend!