OUT OF THE BLUE
Recycled Plastic Snack Pouches Set of 2
---
Eliminates the need for single-use bags
Our ocean inspired designs repurpose plastic-waste to create a durable, recycled fabric, certified by the Global Recycled Standard (GRS)
Recycled plastic helps to divert plastic from landfills
Includes 2 pouches.
7.08" x 3.94" x 1.38"| 18cm x 10cm x 3.5cm

WHY WE LOVE IT
A clean earth matters. We believe that a more responsible lifestyle benefits everyone and everything, from our neighbors and friends to the planet and its resources. All we need are the right tools. Introducing the newest collection: recycled and reusable products that replace single use plastic items
DESIGN
GRS Certified recycled water bottles (rPET)
Ocean Inspired Designs include Waves and Whales
Made of recycled plastic bottles, your purchase helps divert plastic waste from landfills.
Replaces single use plastic snack bags
AT THE CORE
We're honored to be in your home, and promise to make ourselves useful. Not to mention sustainable, reusable, recycled and recyclable, even shareable, compostable, and occasionally huggable. Because we're totally committed to the home you live in, and the one we live on.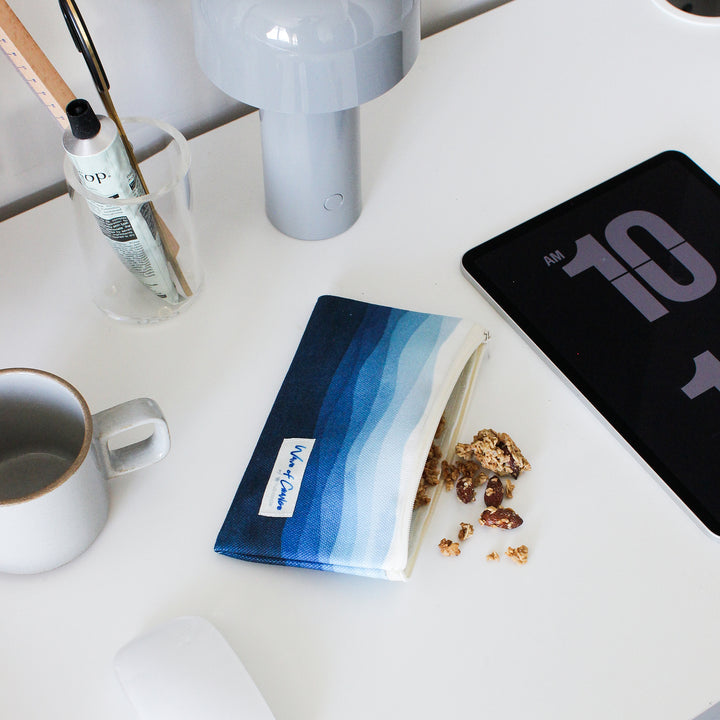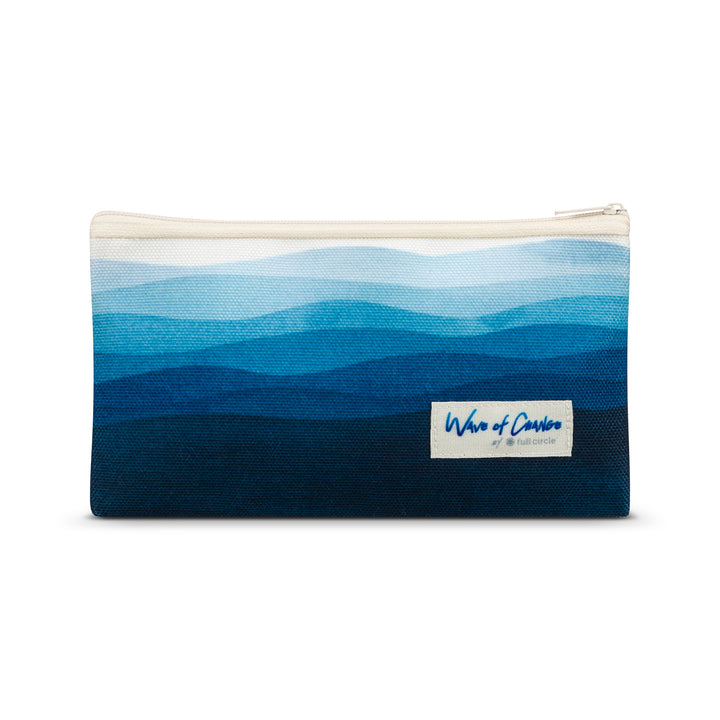 CARE INSTRUCTIONS
Hand Wash in soapy water or machine wash cold on delicate cycle, wash separately or with similar colors, Do not bleach, do not tumble dry, cool iron only
Customer Reviews
Write a Review
Ask a Question
Filter Reviews:
utensil sets
road trips
snack bags
gifts
friends
07/20/2021
Mary A.

United States
Great replacement for plastic snack bags
These snack bags and utensil sets were bought as gifts for friends who are trying to go "plastic free". They absolutely loved them and say they are using them on road trips!
Very Cute Recycled Snack Bags
I love whales. Shamelessly so, and I will probably buy most anything that has a whale graphic on it. That being said, these are really cute pouches. They are a nice size for whatever you want to put in them as far as snacks. I am not sure if they are water proof, so I cannot personally recommend them for fresh vegetables, but they would definitely be good for dry snacks like pretzels, chips, trail mix, various bars, etc.Digging into the listing for these, it is recommended to hand wash and wipe off only for these, so I won't be putting them through the wash. The material seems more like cloth than repurposed plastic which is really nice. The stitching seems to be very sturdy and I like the zipper.To me, these bags seem more like pencil bags or make up bags than they do snack bags, but they are food grade and their intended purpose is to carry food, which is pretty awesome. For whatever your purpose might be, these bags are really cute and will get the job done. I personally am interested in the rest of the line that these bags came from - cute and sustainable are a win win combo. Highly recommended.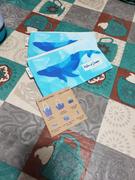 Reusable zipper pouch
These pouches are a great way to reduce single-use plastics. The pouches are well made with smooth zippers and the fabric is a heavy weave that feels waterproof or at least water resistant. The pouches can be used for dry snacks of all types and I love that they are recycled and reusable.
Snack pouch - 6 3/4 x 4 in
I got these because I really like the color scheme. You get 2 pouches for the price. They work for dry snacks like crackers, pretzels and such. The material is a little thinner than expected. It's fairly lightweight I'm not sure how the material will hold up to staining for items like carrots, cherries, etc. On the other hand, they work great as a 'pencil case' or to hold baby utensils, crayons, or other knick knacks that can get lost in my large daily bag.
Easy to wash and reuse, sturdy zipper, nice design
I love these reusable snack bags - I used to go through a LOT of plastic baggies, for snacks, holding small items to throw into a larger tote bag, general organizing, etc. These reusable bags are a great size for small items, measuring about 4" x 8" with a sturdy smooth zipper. They are perfect for food or non-food use. They are easy to wash and even do well with a bit of bleach in the wash water. The design has pleasing shades of blue, showing a whale and an abstract ocean-water look. I use one for lunch utensils, although this company does make a designated pouch for that. I plan to get more items in the collection (lunch bag, sandwich pouches). And the bonus is that these these bags are made of recycled materials.
I really like these!
Decent quality and really unique. I'd definitely be interested in purchasing these once they become available. I have only used them for grapes but they are easy to clean. So far they are holding up well and I don't see why they wouldn't. Just make sure to wash them a few times before you use. Once is not enough left a strange taste on food.
Pretty
Love this reusable bag. I wish the outside was an oilcloth like the inside so it wouldn't get dirty but other wise I like it a lot. It's pretty and useful!
Very satisfactory alternative
I have tried quite a few reusable snack bags in my efforts to wean myself away from disposable plastic bags, and these are my favorites by far! They arrived packaged in a soft, plastic-like but compostable outer wrap. One of the most discouraging things I've learned about recycling is how little plastic is actually reused, even if we diligently send it for recycling, so I was really pleased to see that these bags are made of woven recycled plastic that is certified by the Global Recycled Standard. This makes a much softer, more flexible bag than the typical silicone choices. They close with an actual zipper, which is not only easy to use but, again, makes the bag more flexible than a bulky press-seal style of zipper. They are decorated with a very attractive blue whale/ocean theme that makes them even more of a pleasure to use. I have been washing the pouches by hand to avoid exposing their beautiful coloring and zippers to dishwasher detergent, although there is nothing that indicates they must be hand washed. When I cook, I always seem to end up with a sink full of hand-wash dishes and utensils anyway, so it's no inconvenience for me. If you've been making the switch to reusable snack and sandwich bags, I definitely recommend you give the Wave of Change design a try. I'm very pleased with them.
Nice quality
These are really nice quality. I love the print.I took a star off because it gives no instructions on how to wash.
Exceptionally adorable and useful sustainable snack bags
Everyone in your family will want to use these cute snack bags for their lunches and to tote around a treat for later. They are not just suitable for children since the colors and aquatic image is perfect for adults and teens too. You get the genuine stamp of authenticity right on the pouches themselves as you get two in the product.The craftmanship is sturdy including everything from the zipper, the materials used, and the stitching. They are the perfect size for almost anything small such as chips, fruit, crackers, candy, or even fresh veggie slices. You will appreciate that these incredible snack bags are washable, reusable, and made from recycled materials. Not only does the manufacturing of them remove unwanted trash materials from our landfills but they also keep the user from resorting to a plastic bag to hold and carry their goodies.The product comes nicely packaged and arrives quickly after ordering. Small children and older adults will appreciate the zipper closure to keep snacks secure if they are not eaten all at one time.I received this as a free product in exchange for my unbiased opinion to better guide future buyers with an honest review. I highly recommend these wonderful earth-friendly snack bags to anyone of any age. Enjoy the whole line of these fabulous bags in the various sizes and purposes offered.