STASH & FRIENDS
Sinkside Dish Washing Set
---
Includes everything you need to tackle dirty dishes with ease
Modular design shifts as needed to custom-fit your personal sink scrubbers & supplies
Compact proportions sized for ultimate space-saving organization
Must-have sponge drying nook
Stash Dimensions: 7.87" x 4.24" x 4.25" | 20cm x 10.76cm x 10.79cm
You May Also Need...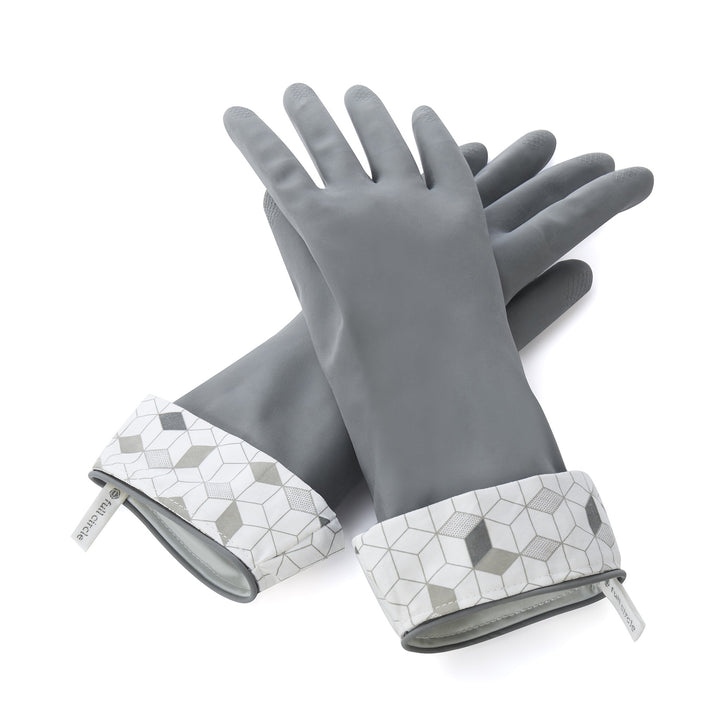 SPLASH PATROL
Natural Latex Cleaning Gloves
WHY WE LOVE IT
Your countertop deserves the best. This bundle includes all the tools you need to tackle countertops, appliances, dishes, and more. Upgrade your cleaning game with our Stash Modular Ceramic Caddy to properly store and dry your cleaning tools so they stay durable, easy on the eyes, and good for the planet.
Included is the Be Good Dish Brush, (2) In a Nutshell Walnut Sponges, Bubble Up Palm Brush with Sudsing Base, and the Stash Ceramic Caddy to hold it all. 
DESIGN
Sustainable ceramic, recycled plastic, bamboo, walnut, cellulose
Unique materials that reduce waste are great for the earth but when they're not treated with harmful chemicals, they're even better.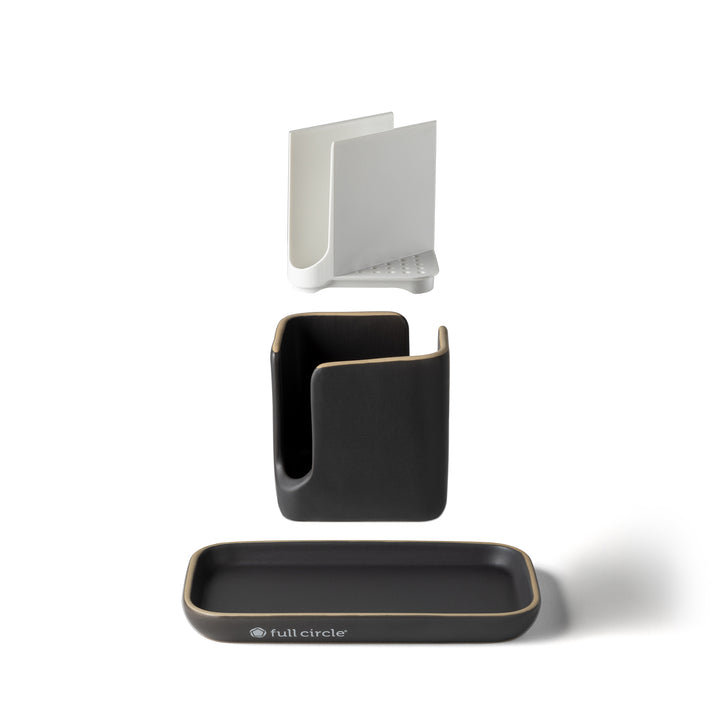 AT THE CORE
We're honored to be in your home, and promise to make ourselves useful. Not to mention sustainable, reusable, recycled and recyclable, even shareable, compostable, and occasionally huggable. Because we're totally committed to the home you live in, and the one we live on.
CARE INSTRUCTIONS
The Stash and the Bubble Up base are safe in the top rack of your dishwasher. Keep the others in tip top shape by hand washing with warm water and allow to dry completely.
Customer Reviews
Write a Review
Ask a Question
Filter Reviews:
dishes
sink
brush
tray
place
everything
area
anyone
counter
kitchen sink
12/23/2022
Allen C.

United States
Stash n Friends
Great combination of brushes and a well thought out place for them to live near the sink. Brushes are well built and just stiff enough to be very effective in cleaning dishes.
12/16/2022
Betty S.

United States
Great tools for tidy kitchen
Most all of our dishes are put in a dishwasher, but while I prepare food, I frequently want to wash my cutting board and knife in between cutting and dicing, especially after dicing onions and cutting raw meat. The Full Circle Stash and Friends allow me to easily wash them in super fast time. Also, after stirring my coffee, I wash the spoon. Highly recommend this product.
09/07/2022
Jeanna C.

United States
Clean and simple
I appreciate that the materials are recycled or biodegradable. The set has a minimalist look that I appreciate. The two tray inserts do not fit well in the larger tray. One tray is slightly imbalanced and does not fit flat in the larger tray alongside the other small tray. I do not think it is a defect to our purchase; seems to be a design issue.
07/04/2022
Amanda M.

United States
Great set except long handled brush
This is a beautiful set. The ONLY issue is that the long handled scrub brush loses the smaller inside hairs almost immediately, Once they all fell out it was fine to use, but they should either figure out how to secure those or not include them, the brush is fine without them but it's disappointing to see a product you bought lose the smaller bristles so quickly. Otherwise an elegant sturdy set! I'd buy it again.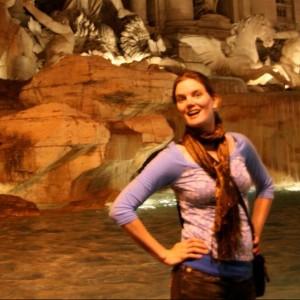 PP
05/17/2022
Pinky P.

United States
Perfect Kitchen Sink Companion
This set sits nicely on our kitchen sink and organizes the brushes and sponges that we had all ***** nilly. The brush is the perfect size and the bristles are just the right stiffness. The separate smaller round brush/drip tray will be used for cleaning veggies. It's nice to have a good looking set of sustainable cleaning tools!
02/21/2022
SARAH R.

United States
Worth it
Functional and looks great
10/01/2021
Tamela U.

United States
Great cleaning & storage
The Stash & Friends is perfect for anyone would loves to store their kitchen dish cleaning necessities in one placeIt's made out of sturdy ceramic - metal & plastic material that is easy to clean & it looks very organized & stylish on any kitchen counter top or sink ledge I would highly recommend this product to anyone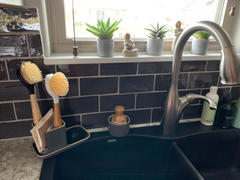 08/13/2021
Trudie B.

United States
Beautiful and tough.
This looks so classy on my counter. Beautiful and tough. I am get impressed with the quality.
08/05/2021
Lori S.

United States
Love it ⭐️⭐️
Looks great beside my sinkVery satisfied with my purchase
07/30/2021
Jessie H.

United States
Compact and organized
Love it! It's so sleek, compact, and keeps everything organized