WHY WE LOVE IT
Team up. This dynamic duo has, and it's glorious. This compact sweep set has a loop which allows it to hang while also being completely self-standing, so you can kiss that clumsy tangle of brooms and dustpans goodbye. With one touch, the dustpan pivots to empty easily into the trash - say goodbye to awkward wrist gymnastics and tragic garbage misses. Now you're playing with the pros.
DESIGN
Bamboo, Recycled Plastic, Recycled Aluminum, Thermoplastic Rubber
This thoughtfully designed combo clicks together and easily hangs up for storage. Did you know? This product is made with 50% recycled aluminum. We've partnered with a supplier who upcycles aluminum scraps from manufacturing into new material, working towards a closed-loop manufacturing process.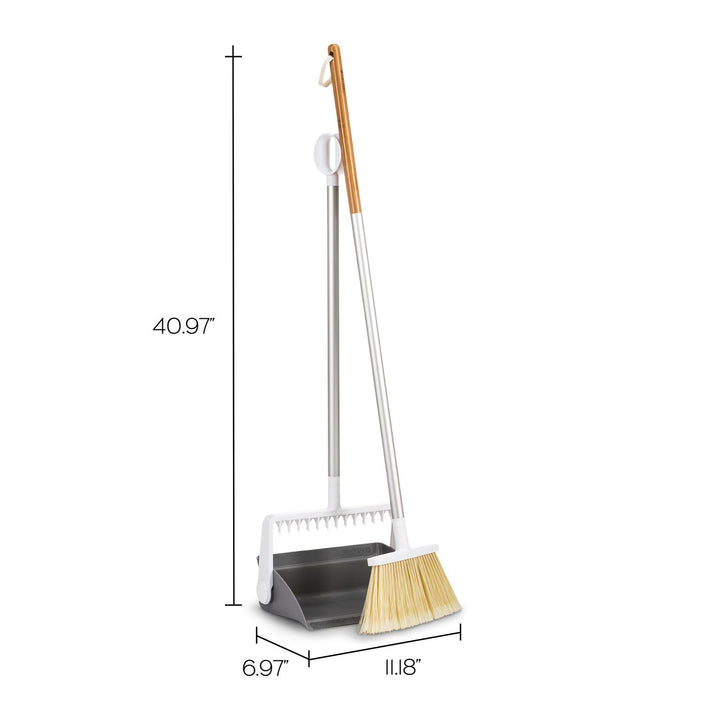 AT THE CORE
We're honored to be in your home, and promise to make ourselves useful. Not to mention sustainable, reusable, recycled and recyclable, even shareable, compostable, and occasionally huggable. Because we're totally committed to the home you live in, and the one we live on.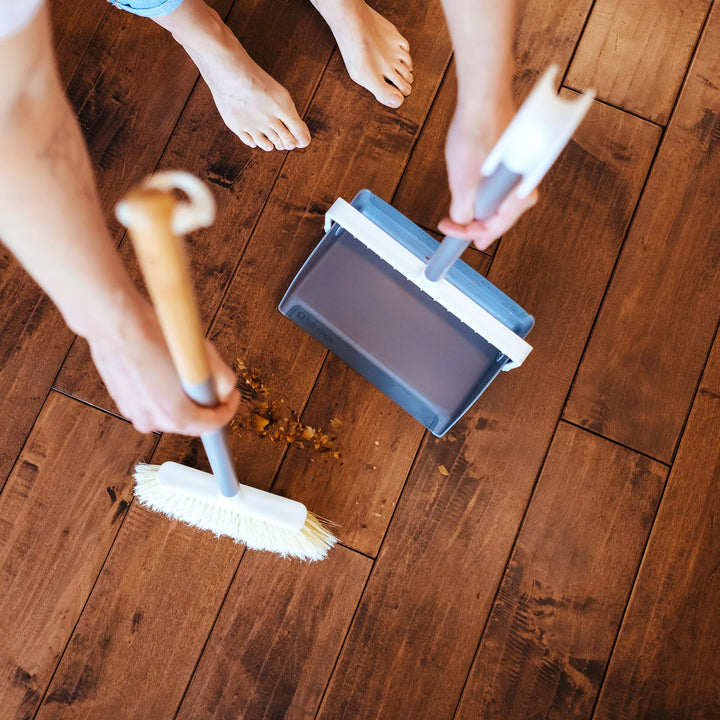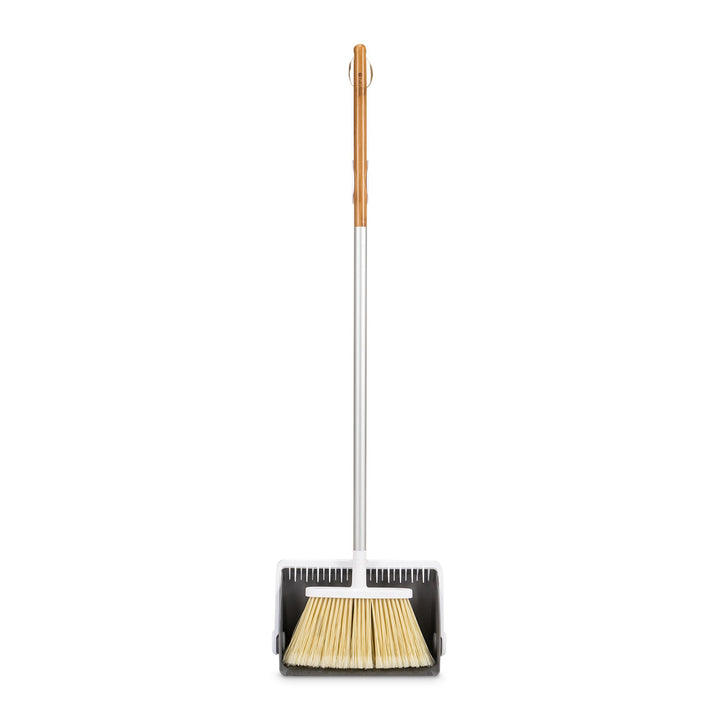 CARE INSTRUCTIONS
Wipe Clean, Wash bristles with warm water and soap if very soiled.
Customer Reviews
Write a Review
Ask a Question
Filter Reviews:
broom
dustpan
handle
hair
messes
Full Circle
item
quality
second
anything
02/06/2023
Vanessa V.

United States
Look at dimensions carefully, I missed the "compact" label
It is a well made item, and looks nice. I had not realized it would be so small, as I didn't check the dimensions. I wish they made a full sized broom and standing dustpan set, but the quality is good, and I'm considering buying their full sized broom even without a dustpan.
11/15/2022
Whitney

United States
Great little set
I bought this for our small home for my boys to use. It is the perfect size for children to use. It is also stylish enough to leave out.
07/25/2022
Tara B.

United States
Love this set
I actually ordered two of these sets - the first arrived and the rubber edge of the pan wouldn't lay flat. I contacted Full Circle and asked what I should do and I was immediately sent a new one after explaining the problem - I had the second in about two days and it works so good! It's so nice because the set has a small footprint and can be easily hung for storage. I've purchased a few things from Full Circle and have loved them all!
05/31/2022
Lauren L.

United States
Sleek and perfect
Love this thing! The brush bar is perfect to remove anything trapped in the broom, the handle is comfortable and easy to use, plus it doesn't look like an eyesore. I only wish the handles had the ability to extend, but honestly it's not a deal breaker.
03/25/2022
Jennifer A.

United States
Best dust cleaning combo
I love using this little duo. I don't use the broom to sweep up rooms, but rather small messes and the piles left from a big sweep.
02/11/2022
Nicholas F.

United States
Nope.
Broom is wayyyy too short. And the dust pan really sucks. It does not pick up trash, goes right under. First and last time buying from this site.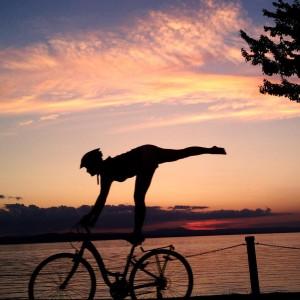 SY
01/24/2022
Sequoia Y.

United States
Classy but hard to use
I was really excited for this useful duo but pretty bummed to discover when it arrived that it's so short, it's hard to use. I'm only 5'4" and I have to hunch the whole time I'm sweeping to hold the handle of this broom. Makes it pretty frustrating to sweep for more than a second or two. The entire height of the broom just needs to be longer. Otherwise, I'd love it as it's a beautiful set with useful features. Having an upright handle on a dust pan is so great. The edge doesn't quite stay down flush on the floor in the center despite the rubber on it, though so you have to push stuff on a few times. Could be excellent, just missed the mark a bit.
01/07/2022
Madelyn S.

United States
Great broom!
I was shocked at how well this broom clings to everything! And the teeth on the dust pan work so well everything comes right off! Highly recommend, but know it's shorter than most brooms.
12/31/2021
Sarah M.

United States
12/11/2021
Cynthia G.

United States
Disappointed
Broom is short. Dust pan sucks. It does not pick up trash, goes right under. First and last time buying from this site.